Kymberly Williams-Evans, MA and Alexandra Williams, MA
March has been a busy month for conventions – whew! We went to the IHRSA Convention to check out the latest trends in exercise equipment and fitness. This convention is geared mostly toward club owners and managers, although there is plenty for instructors and trainers to do, see, taste and touch!
Actually, we'll quickly outline our day at IHRSA for you, and you can decide if it's something that entices you!
7:00 a.m. Arrived at the Los Angeles Convention Center after a 90 minute drive from Santa Barbara. Got our press badges in time to take a 7:15 workout at the Precor booth.  More footage of that in our next installment of Harold & Kumar go to White Castle (er, Kymberly and Alexandra go to IHRSA).
8:00 a.m. Listened to a wonderfully "Enchanted" keynote speech by Guy Kawasaki.
9:00 a.m. Challenged Chuck Runyon, the CEO of Anytime Fitness to a push-up match-up. If you want to know why I'm counting to 212, you'll have to read our Patriot Push-ups post. If you want to know why we love Chuck Funyon (that's what we call him), you'll have to listen to our radio interview him discussing his book "Working Out Sucks."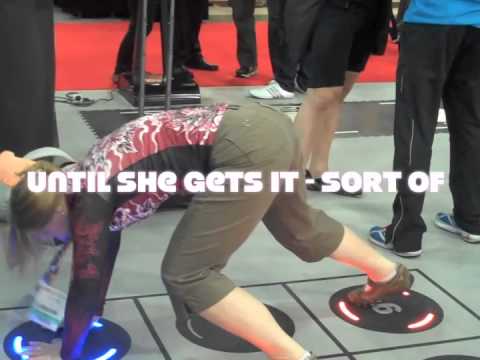 11:00 a.m. – 6:00 p.m. We went up and down every single aisle of the Expo hall, checking out all the cool stuff. We were in fast forward, but not exactly as fast as in the video. And that Pavigym game floor was hysterical. For some reason, the lights wouldn't change when I (Alexandra) pressed them – maybe because I have such a light touch!! A crowd gathered during our "testing activity phase" because we were laughing so hard. The Kangoo Jumps make me pee my pants (thanks a lot, big-headed kids of mine), but my kids loved trying this when they came to last year's fitness convention with me. And the Queenax set-up is brillo (channeling my inner Brit). The video shows only a fraction of what can be done on the inversion rig.
6:00- 8:00p.m. We gathered up our stuff and went for dinner at a fairly bad restaurant, then drove home. We were so tired we didn't even argue on the way home…much!
Reader Hot Flash: The people at IHRSA want fitness bloggers at this convention. Your press pass gets you into all the seminars too. Alexandra gave a presentation at the 2011 convention so she knows the topics & speakers are top-notch! And….if you don't want to wait for a whole year to go to a great convention, check out the Blend Retreat in early May. . Much more intimate than the IHRSA convention, with lots to do. And it's in Boulder, not smelly L.A. with the bad traffic.
Cool Flash: Anytime Fitness is giving you a 7-day free pass to try out their club. No strings attached, no push-ups required. They just gave it to us to share with you.