6
Father's Day: Happiness, Love and Health
Alexandra Williams, MA
What does Father's Day have in common with exercise? Is there a link between movement and how positively your view your life and relationships?
Sunday was the designated day to celebrate fathers. If your father is alive and you get along, then it's a day of love and appreciation. If your father is no longer alive or you are estranged, then it's a day that seems to highlight that loss.
Yesterday morning I went to the memorial service for the father of a friend of mine. In the afternoon I called my own dad, with whom I am quite close. In the evening I watched as my son did chores he knew would make his dad happy.
As the circle of life (curse you, Lion King for co-opting this phrase; I prefer Joni Mitchell's "Circle Game" ) is on my mind, I got to thinking about what this means to us boomers. More memorial services, more taking on of responsibilities by grown children, more contemplation on love, happiness and longevity.
Sometimes I get sad, thinking about the few years I have left with my dad, or the fact that my kids are on the path to leaving this home and creating their own. But getting sad just makes me feel stuck and powerless. So I try to think instead of the many years I've had with my dad and how much we'll enjoy the ones still left to us. And I think of the pride I feel, seeing my boys make their way as contributing world citizens. That makes me feel hopeful and happy. And I go for walks. Those really clear my "stuck" moods. Which is good for my health!
According to the Mayo Clinic,  physiological and emotional links between movement and happiness have been established. And the exercise doesn't have to be hardcore; it can be softcore. Hmmm, that sounds slightly off. In any case, gardening, strolling or washing the car (anything that's movement) counts. Exercise can:
Release feel-good brain chemicals (neurotransmitters and endorphins)
Reduce depression-related immune system chemicals
Increase body temperature, which may have calming effects
Help you gain confidence as you meet exercise goals or challenges, even small ones
Improve your assessment of your appearance
Take your mind off worries.
Increase your chances to chance to meet or socialize with others. Just exchanging a friendly smile or greeting as you walk around your neighborhood can help your mood.
Help you cope in a healthy way. Doing something positive is a healthy coping strategy.
Additionally, life satisfaction increases when you exercise. Not only is that good news for me, it's especially relevant to my college-aged son, as his age group is at the most risk for life dissatisfaction. So, my happiness goes up if I exercise, and my worry-warting goes down if he exercises! Win Win!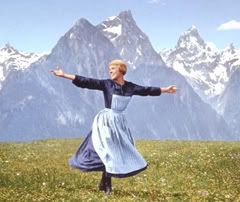 So go for a walk! Or wash the car. Better yet, wash MY car. My happiness will definitely go up. And in case you're wondering – I took my own advice and went for a hike up the mountain this morning. The views helped contribute to my feeling of joy as I walked above the fog blanket. And it's fun to do the "Sound of Music" spin when I near the mountain top. Try it. You'll feel loved, lovely and loving. Just try not to burst out singing, "The hills are alive…." when bicyclists are passing. It might make them crash.
What do you do to make yourself happy?
I dedicate this post to my friend Caitlin and wish her many joyous memories of her dad.
Photo of Julie Andrews courtesy of Photobucket
While spinning and singing, subscribe to our YouTube channel to see short videos that will improve your fitness and health. So satisfying! Have you subscribed yet to our blog?  Please also follow us on Google+: Alexandra and Kymberly, on Twitter: AlexandraFunFit and KymberlyFunFit and Instagram: KymberlyFunFit and AlexandraFunFit. Or click now on the icons above.
Like what you read? Please Share